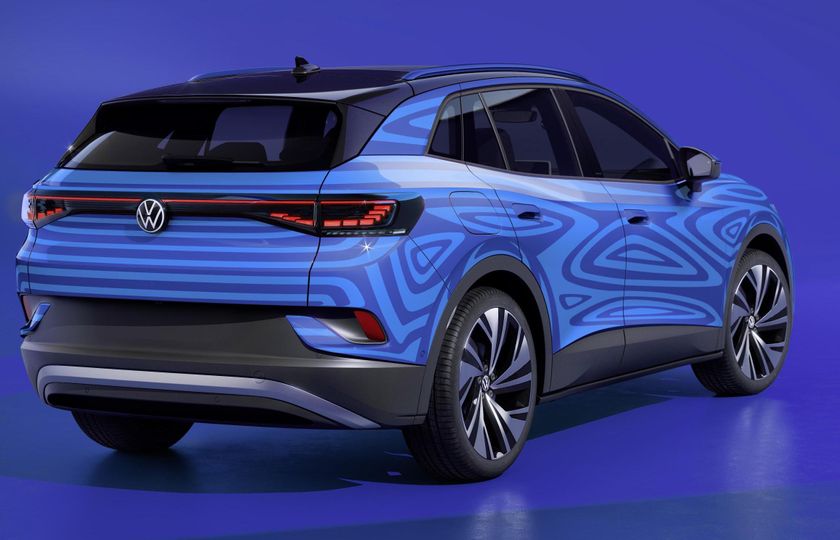 Volkswagen has released the first pictures and details of its new ID.4 – an all-electric family SUV which is due go on sale in early 2021.
Don't be put off by the bizarre stripes of this show car, these have been added to partially disguise the looks and keep us all teased ahead of the reveal of the final version in a few months. It will follow on from the launch of the Golf-sized ID.3 hatchback and offer family car buyers an efficient electric car with the space and styling of an SUV.
At 4.6 metres long, the ID.4 is around 20cm longer than mid-sized SUVs such as the Nissan Qashqai and VW's own Tiguan. Using the same mechanicals and basic structure of the ID.3 will keep the cost low and has allowed VW to invest in some pretty impressive battery technology. The company claims it will have a range of 500km, or 312 miles, from a battery which is expected to be around 80kWh in capacity – that's twice the size of the cheapest Nissan Leaf's pack.
The ID.4 will initially be launched with only rear-wheel drive and one battery size. An all-wheel drive version with two motors and more power will be added later, along with smaller battery pack options to make it cheaper.
Prices have yet to be announced, but expect the ID.4 to cost around £10,000 more than an equivalent petrol-powered Tiguan at around £30,000 to £40,000. This will put it head-to-head with the cheaper versions of Tesla's Model Y and the Volvo XC40 Recharge.