Does that paint an accurate picture of what a car is like to drive and, more importantly, own? Probably not, which is why, selflessly, I'm running an IONIQ 5 on the Electrifying long term fleet. Unlike some of the cars on the fleet, this hasn't been supplied by a manufacturer for assessment. It's my car and I plan to keep it for as long as I can keep up the repayments. Might be 2024, might be next month.
RXL was ordered just at the start of the 'great electric car wait'. Although the eight month lag from order to delivery felt like a lifetime, it's actually not bad by late 2022 standards. Being a little old-school in these matters, I chose to order it from the Hyundai dealer in my town rather than a vast multi-brand franchise.
All was okay (don't expect week-by-week updates) until the handover, which I'm sad to say was pretty hopeless. It wasn't the fault of the young woman tasked with completing the deal, but if I was new to electric, I'd have driven out of the showroom without the faintest idea of how to charge, how to monitor my usage or anything. She wasn't able to demonstrate the infotainment system because 'we aren't allowed to get into cars because of Covid' and the 30 minute handover session amounted to little more than a sales pitch for a service package and paint protection.
Call me an old romantic, but collecting a new car should be an utterly joyous occasion and not like dealing with a hire car desk at the airport.
My mood didn't improve when I got home and the car decided that it had driven far enough for the day. Although I could open the doors and fire up the dashboard systems, engaging forward or reverse wasn't an option. I tried every combination of locking, unlocking, starting and leaving for 30 minutes but it was to no avail. I called the dealership and was told that I could book a service appointment or call the AA. The AA didn't have the car on their system (of course) because the registration details hadn't filtered through to their database. Sigh. Eventually, a lovely AA patrol arrived and tried everything I'd done earlier. He didn't have a clue either, so went for the old trick of unplugging the 12 volt battery and rebooting the car. Which, after about 5 minutes of error messages and flickery screens did the job.
Thankfully, it's not pulled the same stunt again, but there's now a 10mm spanner in the glovebox in case it does.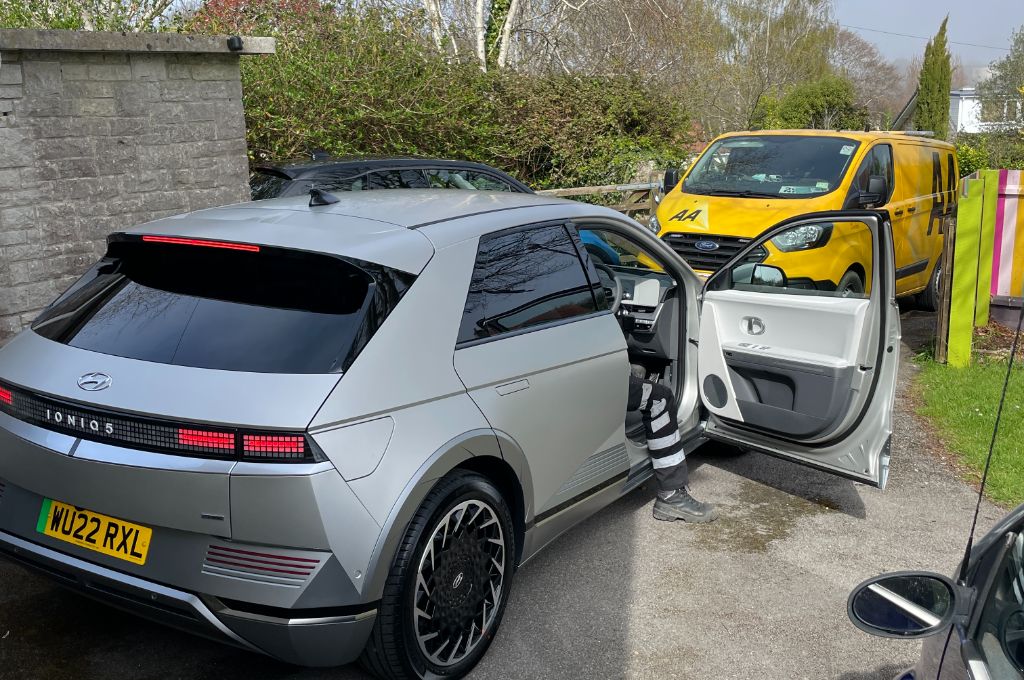 To date, I've done just over 3,500 miles in the IONIQ 5 and they've largely been trouble-free. In August it went back to the dealer for a parking brake recall, which was done in 20 minutes on a while you wait service slot.
As for energy consumption, well it's nothing special. The weather gods have been kind to both of us this year and I've only just started to complete longer drives with the external temperature in single figures. In the warmer summer months with an ambient temperature in the low 20s, the efficiency display would sit around 3.6 miles per kWh. Now that I'm doing the same at half that, I'm seeing 3.2 miles per kWh at a steady 65-70mph. It's fine, but for what is supposed to be a next-generation platform from one of the world's most innovative manufacturers, I was hoping for a bit better.
Charging? Well, that's also proved a bit hit and miss. I've rapid charged maybe 10 or so times since taking delivery and, generally speaking, it's been fine rather than spectacular. On the one occasion I found myself at a 350kW IONITY station with 15% left in the battery and warm weather (a combination that should have seen stellar speeds), the charging unit conked out after three minutes and I was forced to use the Gridserve units that managed 45kW. That said, I've seen some great speeds at both Shell Recharge 175kW units and Instavolt's 125kW BYD chargers.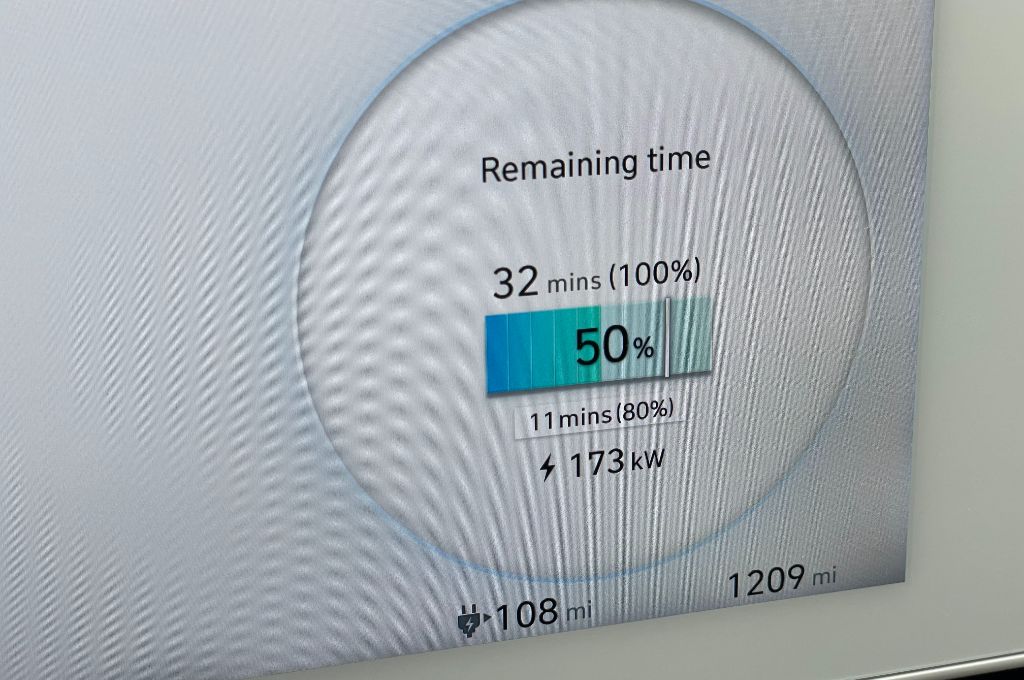 I'm no engineer, but it seems the IONIQ 5 (which has the optional heat pump fitted) is quite fussy when it comes to battery temperature. A recent late night trip to Heathrow for the Polestar 3 launch required a short splash and dash on the M3. This was to put enough charge in to guarantee a non-stop drive back from the airport the next day. My favoured bp pulse 150kW units were both in use, so I found myself at a 50kW Instavolt unit which I've used countless times before in my BMW i3. It was working (typical Instavolt), but at 60% battery charge and an outside temp of 9 degrees, the charge rate peaked at 28kW. I swtiched to a bp pulse 50kW next door and got 29kW. Frustratingly, I'd used both before in the summer at pulled 49kW.
That leads me to think that the combination of a fairly high battery level (or State of Charge to give it the correct term) and a cold battery (I'd just covered 100 miles on the motorway with very light throttle usage) meant that the car was reluctant to charge at a higher rate. Two days later (same conditions), I used a 125kW Instavolt with 40% charge remaining and I saw 113kW on the display. If you've experienced the same, let me know at [email protected]. I'd love to find out what the cause of the slow charging rates are.
The rest of the car is simply lovely. Hyundai certainly knows how to bolt a car together and after six months, I've yet to detect a rattle or squeak. If I was nit-picking, I'd say that the lack of wireless CarPlay is pretty unforgivable in a £52,000 car, but that's really a very minor first-world problem in the grand scheme of things.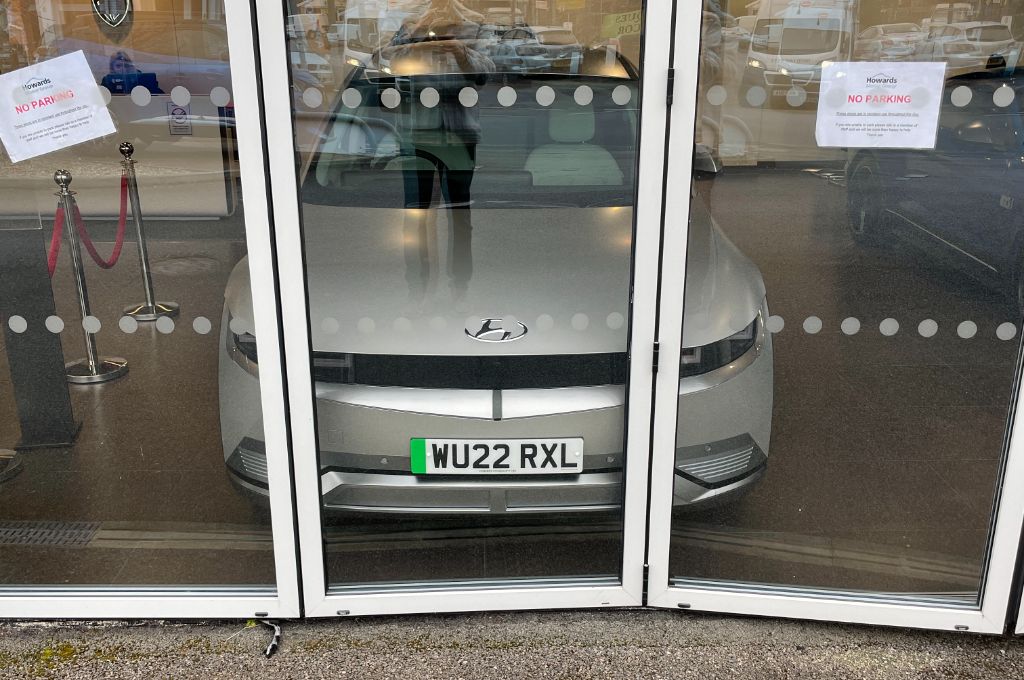 ​
​