​When you drive a new car which people haven't seen before it's common for those who are interested in motoring to notice it, but with the Born it seems to go beyond that. It seems to be a universally admired car. Everyone from little old ladies to boy racers seem to respect it and we get questions about it when I park up or stop to charge.
Ours is an early car, which means choice was limited, so the car we ended up with has the 58kWh battery and is in the top V3 spec. We were fine with the battery, as it offers a real world range of 200+ miles which is the comfortable compromise cut off for our needs, while retaining the five-seat layout which having a family requires. Choose the bigger 77kWh and you get more miles, but fewer passengers.

Over the 8,000ish miles we've been running it, the Born has averaged 3.9 miles per kWh, which is pretty good we reckon considering the mix of motorway, short local and mixed weather its encountered. We've had it down to below 5% charge on a couple of occasions and it slurps up the watts at above 100kW on the right charger, taking the battery up to 90% in the time it took to have a wee and a sandwich.

On longer journeys we sometimes wish for a little more lumbar support, but the V3 does have a neat trick - a massage function. It's the sort of thing we've only ever seen on proper premium cars, and although it's not quite the same as getting a good kneading from a chiropractor, it does help stop the aches after a couple of hours at the wheel.
Talking of comfort, our V3 has 20-inch wheels which should mean it has a really uncomfortable ride – but somehow it doesn't. And yet is feels sporty too. It's a really well judged compromise. We were also amazed at how the car coped with the frozen snow we had recently. Despite being rear-wheel-drive, which is usually a disaster in the snow, the Born never even flickered its warning lights. We are not sure if that is down to the tyres or weight distribution. But whatever it is works well.
We did have a bit of a mishap with a pothole hidden by flood water though and managed to burst a tyre. Now bear in mind these are a really odd size, made specially for this car and filled with anti-puncture gloop and sound deadening gel. But Continental had them in stock and it arrived next day. We've heard that some other electric car specific tyres – like those fitted to some Korean models – are impossible to find, so were prepared for the worst, but the man in Kwik Fit was actually quite excited as he'd never seen tyres like it before. There's no spare wheel of course, so the puncture involved a trip in a flatbed tow truck. We just pressed the 'spanner' button on the roof lining and it connected us to the AA and someone came to get us.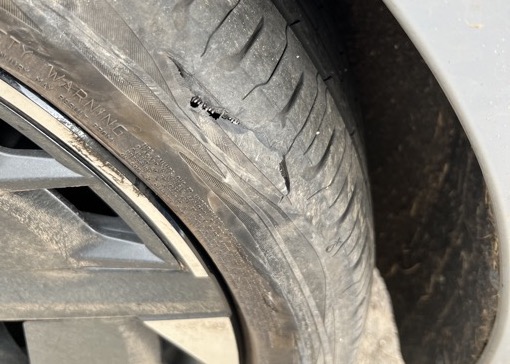 Invisibles and niggles
While there is plenty to love about the Born, there are niggles which might well have put us off on a test drive, but we've ultimately learned to live with. The biggest issue is with visibility. The windscreen pillar is huge and it means you have to do a 'safety shuffle' with your head whenever you reach a roundabout to make sure you haven't missed a motorbike or even a whole car.

The wiper pattern doesn't help. They are the same as on the Volkswagen ID.3 and are designed for left-hand drive cars, means the blade on the passenger side leads and flicks water right into the driver's eye line on every swish. It also leaves a big chunk of the screen unwiped on the driver's side, making that blind spot worse.
No report about a modern VW group car would be complete without moaning about the tech. We've even done things as drastic as reading the manual, but still can't work it out sometimes. Even things which work as they should, like the heated steering wheel control, are buried so deep in a menu that you can forget how to find them from one day to the next.
We have heard from people who are plagued by system crashes, but we've only had it happen a handful of times. That's still unacceptable, but not unbearable. Sometimes it just has to reboot, won't load the screen you need, or refuses to play podcasts at the same time as charging the phone.
The app works reasonably well, and thanks to the help of other owners commenting on the YouTube update, we have now swapped the measurements back into miles. It's still bizarrely pessimistic about the availability though, with the car's meter saying 200 miles while the app suggests a full charge won't go more than 100km.
The only other complaint really is about the paint. We love the grey, but the actual paint itself seems really soft. Bird droppings after only a few hours in marked the finish and even dragging a heavy bag across the rear bumper when loading the boot has been enough to wear the paint away. We'll have to invest in a touch up pen and crack out the polisher.